Save the planet and exercise your brain.
Space Waste is our newest arcade action game for iPad where you vaporize asteroids and collect space debris.Threeze is our new brain challenge game designed for Android phones and tablets.
---
Space Waste for iPad / iPad Mini – Free
Click here to get Space Waste for your iPad
• Perfect for that five-minute break or long commute
• Over 50 missions! And more coming.
• Each mission is gradually harder until it gets insane (What were we thinking?)
• Meet aliens then blow them up (Don't feel bad, its either you or them.)
• A compelling sound track to drive to (It's pretty quiet in space without music.)
• Thumb-pad or tap-to-shoot selection
• Vote for new features (make it your game.)
• Beautiful art optimized for your retina iPad
• Professional high quality sound effects




---
Threeze for Android Phones & Tablets – Free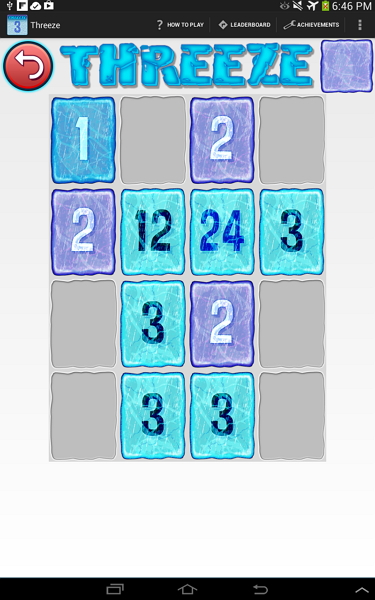 Click here to get Threeze for your Android Phone or Tablet
• Quick game-play for between meetings or waiting for a ride
• Combine number pairs in this brain puzzle game
• Use strategy skills to earn high scores
• Compare your best scores against your friends
• Fantastic graphics optimized for both phones and tablets
• Leaderboards and Achievements
• Google Play support


---
Thank you for playing our games. As an independent company founded in 2003, we rely on word-of-mouth to spread the fun about our games. Please forward this email to your friends or post on Facebook or Twitter.
Best regards,
Todd Sherman and the Smart Box Design Team


https://smartboxgames.com/wp-content/uploads/2017/01/sbg_logo_whitetext_trans-1030x259.png
0
0
Todd Sherman
https://smartboxgames.com/wp-content/uploads/2017/01/sbg_logo_whitetext_trans-1030x259.png
Todd Sherman
2014-06-12 16:44:43
2014-06-12 16:44:43
Space Waste for iPad and Threeze for Android